Covid Reporting and Information
Covid Testing - Consent
In September 2021 the current Government guidance requires schools to test students twice upon their return. We will therefore require permission for your son/daughter to participate. If permission has already been given there is no need to resubmit your form. If you have not yet given consent and would like to please use the following link.
Reporting your Child's Lateral Flow Results
We are asking students to take a home test twice a week – on a Sunday and Wednesday evening. Once the test has been carried out you will need to submit the result to Gov.uk/NHS and to us in school (It is a legal requirement for schools to keep a register).
You should have by now recieved the new Lateral flow tests which you will see are different to the ones you have been using. Please see here for instructions and kit contents:
Then log your results on the school and government websites as usual.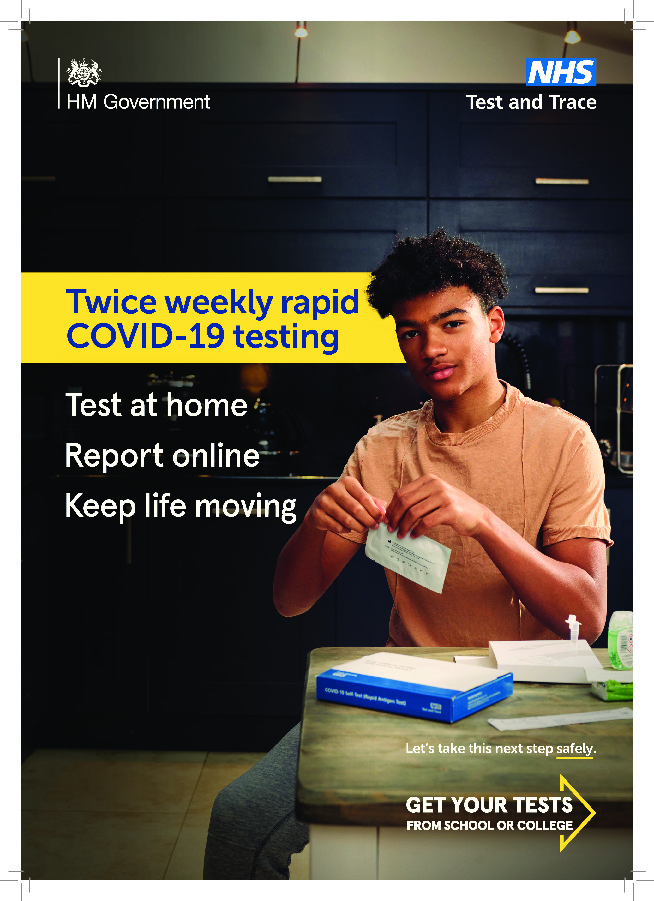 What to do should your child test positive using the Lateral Flow Home Test Kit?
What to do should your child test positive using the Lateral Flow Home Test Kit?
If your child tests positive using the home test kit they should not come to school, they should self-isolate and you should take your child to a Covid 19 test centre to get a PCR test to confirm the result. You can book a test by calling 119.
If the result of the PCR is negative, your child can return to school.

Please report a positive Lateral Flow Test result and later a PCR via email to the RAS-enquiries@ralphallenschool.com and please call 01225 832936.
What to do should your child have a positive case of Covid-19 outside of the holidays?
If your child has tested positive for Covid-19 please inform the school immediately by phoning the main school number 01225 832936 between 8am and 4pm. You will be transferred to the relevant member of staff. After 4pm, at weekends, or any time the school is closed, please email RAS-enquiries@ralphallenschool.com and RAS-a.davies@ralphallenschool.com
To avoid unnecessary panic, we would very much appreciate it if you could do this BEFORE you or your child inform their friends.
What to do should your child have a positive case of Covid-19 during the holidays?
Where a child tests positive for Covid -19 having developed symptoms within 48 hours of being in school then please inform the school immediately by emailing RAS-a.davies@ralphallenschool.com
Where a child tests positive for Covid - 19 having developed symptoms more than 48 hours since being in school, the school should not be contacted and you should follow contact tracing instructions provided by NHS Test and Trace.
FAQ's
What do I do if I accidentally report a positive lateral flow test result to NHS Track and Trace and Gov.uk?
ince last term the guidance has changed if someone enters their LFD test result online as positive by mistake. From now on if a lateral flow test result is negative but the student or staff member has entered the result as positive by mistake, NHS Test and Trace advise that the person takes a second lateral flow test straight away and enters the results for the second test on the NHS T&T system. As a result of having entered the first test as positive, the person will receive notification from NHS Test and Trace to isolate and have a follow-on PCR test. This advice though will be over-ridden by the second negative test if taken on the same day. You do not need to phone 119 as they will not be able to over-ride the first test result.
What are the objectives of the Government's asymptomatic testing strategy in education settings?
The Government's asymptomatic testing strategy will help to break the chains of transmission of coronavirus (Covid-19) in education settings by identifying asymptomatic positive cases. Those who test positive will then self-isolate, helping to reduce transmission of the virus. The asymptomatic testing programme does not replace the Government's current testing policy for those with symptoms. Primary school, junior school, and early years nursery staff who experience symptoms of Covid-19 should self-isolate immediately and arrange a test.
Why is asymptomatic testing being introduced?
Up to one in three people who have the virus have it without symptoms (they are asymptomatic) so could be spreading the disease unknowingly. Rapid asymptomatic testing means that we can now introduce testing of staff twice a week. This is a significant development that will help to identify positive cases more quickly and break the chains of transmissions. Primary schools, junior schools, maintained nursery schools, schoolsbased nurseries and private, voluntary and independent (PVI) nurseries must continue to put in place a range of protective measures to minimise the risk of infection spread. Adults and young people that fall into the clinically extremely vulnerable group should continue to follow the Guidance on shielding and protecting extremely vulnerable persons.
Is participation in testing compulsory?
Testing is voluntary but staff, pupils and students are strongly encouraged to participate as testing regularly helps to reduce the spread in school and college settings through asymptomatic transmission.
Can students and pupils swab themselves?
Yes, in an Asymptomatic Testing Site all pupils 11 and above, can swab themselves if they are able to. Pupils/students aged 18 and over should self-test and report the result, with assistance if needed. Pupils/students aged 12-17 should self-test and report with adult supervision. The adult may conduct the test if necessary. When testing at home, children aged 11 (who attend a secondary school), should be tested by an
adult.
Why are you using antigen lateral flow tests instead of PCR tests?
Antigen LFD tests produce results much quicker than PCR tests. With antigen lateral flow tests, a result is available after 30 minutes rather than 1-2 days as is the case with PCR tests. The rapid turnaround has a significant impact on transmission reduction that might occur in the time gap.
Are the antigen LFD tests accurate?
Antigen lateral flow tests have been widely and successfully used to detect COVID-19 in asymptomatic individuals and are approved by the Medicines and Healthcare products Regulatory Agency (MHRA). Using antigen LFD tests is crucial in the fight against the virus. Extensive clinical evaluation has been carried out on the antigen lateral flow tests. Evaluations from Public Health England and the University of Oxford show these tests are accurate and sensitive enough to be used in the community for screening and surveillance purposes. Antigen LFD tests identify individuals who are likely to be infectious. These individuals tend to spread the virus to many people and so identifying by LFD remains important. It is important to remember that these tests are an additional layer of health protection measure in addition to face coverings, social distancing etc.
How will test results get recorded when schools and colleges move to home
testing?
When testing at home, the school will not automatically find out if staff, pupils or students have taken a test. Staff, pupils or students (or the parent) are required to report the test result via the NHS Online reporting system for both negative, void and positive test results. They should also report positive, negative and void results to the school/college. If the result is positive, the individual should isolate, and the school/college should help with contact tracing. They will also need to arrange a lab-based polymerase chain reaction (PCR) test to confirm the result if the test was done at home.
Those with a negative antigen LFD test result can continue to attend school/college and use protective measures.
Why do I need to share information on antigen LFD test results both with NHS Test & Trace and my school?
It is a requirement to share results with NHS Test & Trace so that contact tracing (particularly outside the school environment can take place) and clinical evaluation of the testing programme can continue. Staff, pupils/students should share results with their school so that if positive, immediate contact tracing can take place in school. Void and negative results are useful information for their school both to monitor stocks of kits and to identify any issues that might need escalating to DfE or NHS Test & Trace.
Can my family get tested too?
Families cannot get tests via the schools and colleges. The schools and colleges asymptomatic antigen LFD testing is for staff, pupils and students in schools/colleges. The tests will be handed to staff, pupils and students for personal use and should not be used for anyone else.

However, families can now access twice-weekly test kits through other routes.
Households with early years, primary school, secondary school and college age children, including childcare and support bubbles, can test themselves twice every week at home. Households, childcare and support bubbles of early years, primary, secondary and college staff can also be tested. Twice-weekly testing will also be offered to adults working in the wider school community, including bus drivers and after school club leaders. The twice-weekly test kits can be accessed:
• via employers if they offer testing to employees
• at a local test site
• by collecting a home test kit from a test site
• by ordering a home test kit online
Link here for ordering test kits online.
Link here for local collection sites.