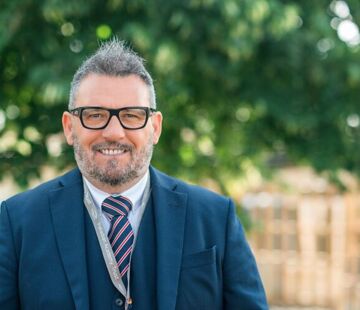 Thank you for visiting our website, either as a parent to explore the school for your child, as a prospective member of staff, or simply to browse. It is my pleasure and privilege to introduce you to our school.
Ralph Allen is a non-denominational 11-18 co-educational school on the skyline of the world heritage city of Bath, serving communities within the City of Bath and North East Somerset.
Ralph Allen is a high performing school and our outcomes in public examinations consistently places us amongst the very best in the region, in terms of both actual attainment and student progress. We are very proud that our students achieve outstanding GCSE and A level results, with many continuing their studies at universities throughout the country. We are most proud however that each of our students secures a route to the next stage of their lives, regardless of pathway.
Our aim is to provide all our students with the very best opportunities by offering them an outstanding secondary education. We work relentlessly to achieve this by ensuring each child in our care follows our core values:
Respect – Our students are respectful to each other, the school and the wider community.
Teamwork – Our students work together, celebrate together and all play their part in the successes of the Ralph Allen community.
Personal Best – Our students work incredibly hard to achieve their personal best, both academically and beyond the classroom.
We support this through a commitment to providing the highest quality learning experiences, a strong pastoral system and an extensive range of sporting, cultural, physical and extra-curricular activities. We ensure that a strong culture of ambition and aspiration combined with high expectations is present in all aspects of school life and is shared by both staff and students.
At Ralph Allen we believe that our greatest asset is our students. We believe it is essential to hear the students' voice, and this plays a key part in decision making. Should you visit, you will see that our students are happy, hard-working and incredibly positive about their time at school. They are a genuine asset to our community and visitors regularly comment on how friendly, polite and articulate they are. In addition to our wonderful students, we have an exceptional team of dedicated and highly trained teachers and support staff, who help inspire, motivate and challenge our students to become the 'best versions of themselves'.
Children have 'one chance' at education and at Ralph Allen we believe they deserve the very best! Our role is to ensure we provide them with this. We set high expectations of and for our students and are relentless in our pursuit of excellence in all areas of our work. Ralph Allen is committed to continuous school improvement and place great importance on working together in partnership with parents so that each student receives the best possible educational experience.
Ralph Allen School is a member of the Palladian Academy Trust, a group of like-minded local schools that have chosen to work together in partnership for the benefit of all our students and communities.
Palladian is a group of geographically close secondary, primary, infant and junior schools that aims to build on existing good practice and collaborative work. Palladian Academy Trust works hard to ensure schools retain their individual ethos and identity, while enjoying and exploring the benefits of partnership.
Educating the children of our community is a great responsibility and an immense privilege. If you are a parent of a student already at the school, thank you for entrusting us with that job! If you are considering sending your child to Ralph Allen or would like to find out more please do get in touch. Every day is an open day at Ralph Allen
Nathan Jenkins
Headteacher