Exploring My Post 16 Options
Post 16 Options Information and Guidance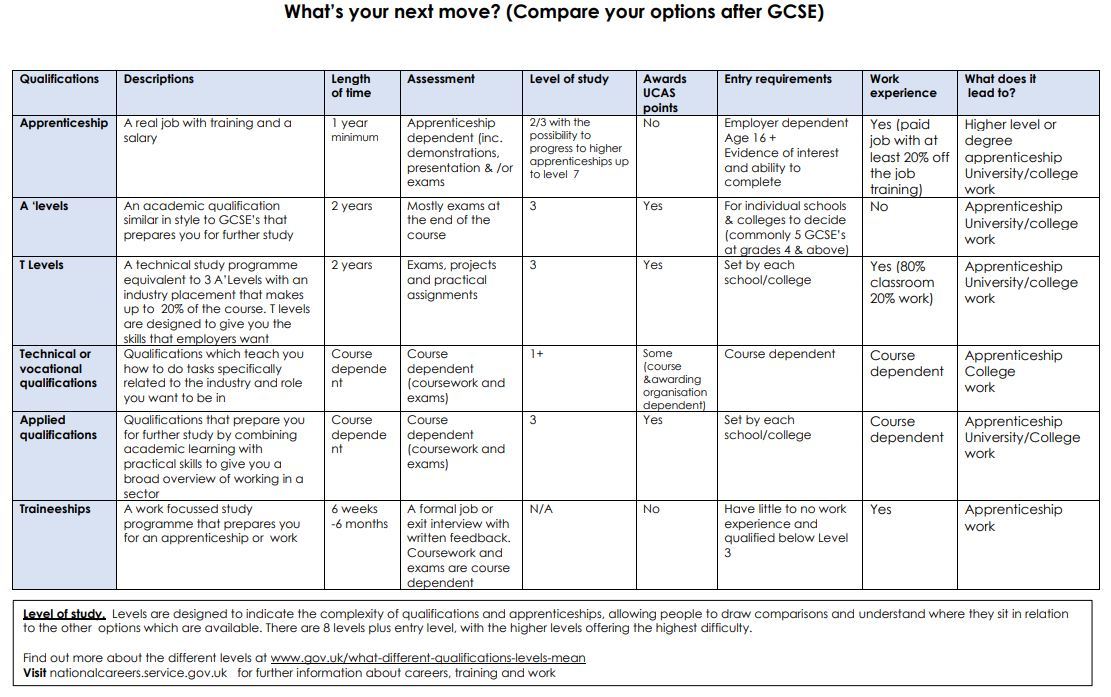 Post 16 Guidance
What are the Government requirements?
It is a requirement to participate in some sort of education or training between the ages of 16- 18, and there are different ways to achieve this, depending on the young person:
Stay in full-time education, for example at a college or 6th form

Start an apprenticeship or traineeship

Spend 20 hours or more a week working or volunteering, while in part-time education or training
Careers Advice- Where to Start
A few pointers on where to start:
Careers ideas to explore
Your interests in and outside school

The skills you enjoy using?

Abilities, learning style and predicted grades.
1, Careers Ideas to Explore
Do you have any careers in mind?
Do you know all aspects of the job such as education and training, working hours, job responsibilities and career progression?
Labour Market Information can give you all the information you'll need regarding the working hours, salary details, the growth of a job sector and in what regions of the UK. This can help you plan a career to ensure you are entering an industry where there will be jobs on completion of training. Some sectors are in demand, bear that in mind.
Example of Labour Market Information (LMI( Careerpilot : Job sectors : Medical : Job profiles : Nurse
To explore the careers you have an interest in go to:
Careers Pilot- Take a careers quiz, explore careers linked to the school subjects of interest or the different job sectors such as healthcare, business finance or Engineering
Prospects Job Profiles- For those students who are thinking of going to university and would like to explore careers in detail or what else they can do with their degree.
Job profiles | Prospects.ac.uk
What can I do with my degree? | Prospects.ac.uk
Icould and BBC Bitesize Careers- Hard to imagine what a job may be like? Perhaps careers videos may help. Follow the links to hear what others have to say about their roles and how they got there.
Careers A to Z: Find your perfect job - BBC Bitesize
Will This Career Need Higher Education?
Higher education is University or higher or degree apprenticeships
Would like to explore what is available at university- Explore | UCAS
Colleges also offer degree level qualifactions which may be of interest. You may find courses in business, computing, engineering, childcare and education and much more.
Apprenticeships
Would like to explore what higher/ degree apprenticeships are available after secondary or Post 16, head over to the Apprenticeship Guide to explore what apprenticeships are currently available in the UK.
2, What are your interests in and outside school?
When exploring interests, think outside the box! There are many students who are entrepreneurs in the own time, whether that is buying and selling photographic images, building websites for businesses or selling clothes and trainers.
Some students like social media, may want to venture into digital marketing, social media management or website content management, design or app development.
Some enjoy watching TV shows such as Interior design, crime, grand designs and believe it or not this is what is influencing and inspiring them into these careers......so do consider!
What school subjects do you enjoy? Are there school subjects you enjoy most? For example, some enjoy history but don't want to work in museums. History can prepare us for working in law, law enforcement, government public bodies such as policy, social research, international relations and development to name a few.
Hobbies and Interests are also important when exploring our future. Of course, it is important to enjoy our work as we wouldn't study or work to the best of our ability. So, what do you enjoy doing? Clothes making, caring for family members, babysitting, travelling, building and fixing bikes, motors or computers.
Whatever it is it's all worth exploring as it could lead to a fulfilling and rewarding career. Don't worry too much about making the wrong decision, most of use change our mainds in the future and retrain, just choose what interests you and you will enjoy.
3, What Strengths and Skills do you Enjoy Using?
Are there particular skills you use in your lessons or clubs?
This could be as problem solving, leadership, strategy, creative and design, or building. All these wonderful skills and talents can be linked to particular jobs and careers sectors.
Values are just as important when choosing careers, for example being kind, honest having integrity can be linked to careers, in forensic accountancy, teaching and childcare, midwifery, community carers, politics and law.
4, Learning Style, Abilities and Predicted Grades.
Learning Styles: It is important to be realistic when choosing your next steps.
Do you enjoy the school setting? Or are you a more hands on learner? Knowing your learning style can help when choosing your next steps.
Whatever your style, consider all the pros and cons and really research into the courses, the content, how they are assessed, and what is required from the student in terms of written and study skills before making the decision.
Colleges offer vocational courses which would be a mixture of theory, practical and some work experience.
Careerpilot : Get information : Further education at 16+ : What is Further Education (FE)?
Careerpilot : Get information : Vocational qualifications : What are vocational qualifications?
6th forms offer academic and technical study which continues from the school style learning.
Careerpilot : Get information : A Levels : Why choose A Levels, what's involved?
Apprenticeships offer hands on learning in the workplace along with a day in a college, training centre or university for the theoretical or additional training required for the role.
Careerpilot : Get information : Apprenticeships : What is an Apprenticeship, how much will you earn?
Predicted Grades
Always apply for a plan B should you not be sure if you will get the entry requirements.
6th form: You may have just made the entry requirements but later discover that advanced level of study may be too much. Perhaps consider mixture of A levels and BTECS, or vocational offers at college.
Some really want to do particular A level subject but haven't yet achieved the entry requirements, then some 6th form provisions offer resits in maths and English alongside A levels or access to level 3 whereby they retake certain GCSEs alongside other level 2 BTEC study then progress to A levels the following year.
College: Use your predicted grades to assess what level of study you should apply for at college. Colleges offer courses from level 1 above, so if you didn't get the entry requires this time, that's ok, the college will offer you a place on a course at a lower level.
Where to start looking?
Do you want to go to university............?
Then BTECS, T LEVELS and A levels can get you there, but it's important to know your preferred style of learning.
The A level route is not for everyone and if you would prefer less exams and more course work then BTECS may be ideal.
If you would prefer a mixture of classroom study, practical learning and up to 45 days in work experience, perhaps the T level may be a good choice.
Or if the you want to gain a qualifaction while working and earning a wage, the apprenticeship route may be for you! Although only very few univerisities will take apprenticeships as an entry requirement, you can get a degree through the apprenticeship scheme.
6th forms
At this point you may have some ideas and want to explore what education is available, but before you start, here are a few things to think a about.
When choosing 6th form it's important to know what is on offer. Ralph Allen has a fantastic 6th form, however, there may also be other options most suited to the to your interests and personal development.
Some provisions offer tailored programmes around medicine and teaching, some offer different courses such as classic civilisation, economics, design engineering, BTEC business, child development and health and social care.
All Post 16 providers offer extra and super curricular activities which is good for personal development, for example arts awards, naval cadets, Duke of Edinburgh award, digital skills, sports academies, residential living with a programme of activities.
Whatever you want, there will be something to fit, so be sure to look around, and most definitely apply for more than one!
Applying for just one place will reduce your opportunties should you not get the grades!.
Colleges
We are lucky to have a good number of colleges in the Bath and Bristol and extended areas, but why would you need to consider other colleges outside of Bath?
Like the 6th forms, colleges offer many opportunties, different types of courses, T LEVELS and apprenticeships. Some will specialise in agriculture and horticulture, equestrian studies, aquatics, scaffolding and roofing, sports. They will have a programme of extra-curricular activities in which young people can try their hand at other subjects or areas of interest.
All colleges offer generic courses plus specialise in certain areas.
Here is a list of colleges in the area.
Bath College (sports football and women's rugby)

Wiltshire College (Agriculture and horticulture)
City of Bristol College

SGS (South Glos and Stroud) College (A levels, Engineering and sports academy)

Harpbury College and University (horse and animal, sports and agriculture, A levels, residential)

Weston College

Sparsholt Hampshire (fish and game)
Not sure on a particular course, attend one of the college's open events and have a campus tour and talk to the course teachers.
Still not sure? apply for the courses you have an interest in! The college will either invite you in for an interview to discuss your suitability and an opportunity to discuss more about the course or an introduction event where you can try out the course subjects.
What happens if you don't like to course? If you have decided that course or training is not for you, then you have until the first half term in October to talk to enrolment and Careers Advisers to explore the opportunity of studying another course instead.
The links below are to documents with all the education providers in Bath and Bristol. This will of course save you time searching the internet.
Bath Pathways- finalpathways_booklet_21-22_v2.pdf (bathnes.gov.uk)
Bristol Post 16 Directory 2023 Click Here
Apprenticeships..... how and where?
Some general information and advice on the how and where to apply for apprenticeships.
An apprenticeship is like a job with training. 80% (4 days) of time is with an employer training and working while getting paid, and the other 20% (1 day) is at college, independent training provider or university (depending on the level).
You can study up to a master's degree level, and there is no tuition or courses fees to pay for as it is all funded, so no student loans.
For more information on apprenticeships, go to: Becoming an apprentice (apprenticeships.gov.uk)
Firstly, if applying for an apprenticeship, apply for a full-time course as well as a back-up. Whether that is in Post 16 or higher education, the same applies. No one is guaranteed a job nor an apprenticeship, so have a plan B.
If you're applying for an apprenticeship through a college, you're expected to find a placement who is the learning provider/ employer. Most colleges will have apprenticeships vacancies advertised on their webpage, be sure to look!
You could approach businesses or have a family member or friend who will offer you a placement.
Small and medium-sized business get funding for apprentices, so this is helpful to know should they want to consider taking the you on.
For guidance on employing an apprentice and funding please follow: Employing an apprentice: Overview - GOV.UK (www.gov.uk)
You can also apply for apprenticeships through independent training providers (ITP), such as JTL, QA Apprenticeships, Babcock, Professional apprenticeships. ITP's are not colleges.
Where can I find an apprenticeship.....?
You can find apprenticeships in the following places:
College websites- Employers advertise apprenticeship vacancies that you can apply for.

Employers' websites
Applying for an Apprenticeship
A large majority of apprenticeships can be applied for all year round, but college intakes tend to be once or twice a year only.
It's important to be work ready in the way of being able write a CV, cover letter, complete an application form, and have good interview skills to wow that employer and get that job!
Websites which can help support you work towards getting that job!
For a CV builder, Cover letters, interview skills and much more.
Barclays Liferskills- Employability Skills | Young People Job Skills| Life Skills (barclayslifeskills.com)
Information on how to get a job, CVs, and much more.
National Careers Service- Careers advice | National Careers Service
Preparing for University.......
For all information on undergraduate study, how to apply, gaps years, student loans, fees and bursaries and clearing, head over the Ucas/ Undergraduate to learn more. Undergraduate | UCAS
What is an internship? Internships | Prospects.ac.uk
Postgraduate- What is a graduate scheme-Graduate schemes 2022 | Prospects.ac.uk
Alternatives to University- Alternatives to university | Prospects.ac.uk
Information On Working At School Age
Most young people would like to work, this is an essential part of gaining independence, learning work and life skills, and most importantly for you, earning some money!
We would like to offer you some guidance from BANES local authority, on child employment.
Where can I find work?
Ideas of the types of work available to young people :
Hair, beauty and barber salons
Deli, cafe and restaurants
Babysitting
Dog walking and pet sitting
Farming and gardening
Office work
Shop assistants
Car Washing
Delivery of newspapers
Riding stables
Sports coaching
Market stalls
Updating businesses websites
Hotels- house keeping- front of house
Working farms, entertainment parks and softplay